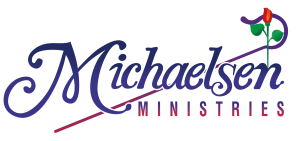 It is with great joy that Johanna and I announce the formation of Michaelsen Ministries!
Serving the Lord and His people has been our life for almost 40 years.
In 1982, Johanna wrote her first book, The Beautiful Side of Evil, warning the Church of spiritual deception, which so easily ensnares those who base their theology on experience over and above sound doctrine. In 1989, her second book, Like Lambs to the Slaughter: Your Child and the Occult, warned parents of the insidious religious influences in the schools, media, toys, etc. that are drawing children into a fascination with mysticism and the occult. Through radio, TV, documentaries, seminars , retreats and lectures, she has sought to alert the Church of the deception that has expanded and increased exponentially over the last thirty years (Matthew 24:4,11,23-25; 7:15-23; 1 Timothy 4:1; 1 John 4:1; 2 Timothy 3 and 4:1-4; Acts 20:26-31).
Since 1984, I have served the Church as an ordained staff pastor, initially as an associate pastor, then about 10 years as senior pastor and then again as associate pastor when we merged with King's Harbor Church on Christmas Eve in 2003. It was through this work that God provided the resources for our combined ministries. For now, that season seems to have come to a close.
At this stage of our lives, many are inclined to simply retire, quietly move to another state and leave the work of the ministry to a (considerably) younger generation. We may have slowed down a bit, but we are by no means ready to step back from the ministry we love and know the Lord has called us to. I take great comfort in remembering that Moses, Joshua and Caleb didn't even get started until they were 80!
The time is short and there is still much work to be done in the Lord's vineyard before He returns or calls us home. That commission has not changed for us. What has changed is the realization that we cannot do this work alone.
Since January of this year, the Lord has already shown Johanna and me great favor by calling some of you to come along side us in breathtaking ways: The establishment and IRS approval of our 501(c) 3 that came through in record breaking time; the provision of the funds needed to cover the legal costs; the wisdom and guidance of skilled attorneys who have volunteered to step in to ensure all is done legally and above board; the skill of board members who are taking on an overwhelming burden to help Michaelsen Ministries with administrative duties that might as well be written in Sumerian as far as Johanna and I are concerned; and the wisdom of advisors who have spent decades warning the Church through their own books, radio programs and documentaries.
As if all this were not enough, many of you have already stepped in multiple times to sacrificially help us with financial gifts.
It is a new and profoundly humbling experience to know that the Lord is gathering around us a team of brothers and sisters who truly love us because of Jesus Christ and who seek to help and protect us for His Name's sake.
Michaelsen Ministries is not about Randolph and Johanna Michaelsen. It is about those who love God's Church and seek to minister as faithful shepherds to those who look to Him. It is about those who know we are all called to be Bereans in these last days (Acts 17:11), regardless of the cost. It is about those who understand that true love and unity can only stand because of sound doctrine (Philippians 1:9-11), not at the expense of it.
It seems God is calling us to build an ark…He will be faithful to provide the water to float it.
In His faithfulness and service,
Randolph and Johanna Michaelsen
Michaelsen Ministries
Philippians 1:9
Michaelsen Ministries
1536 W. 25th Street, Suite 263
San Pedro, CA 90732