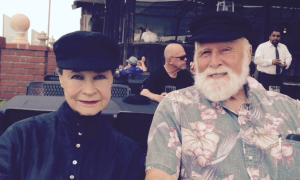 OUR PURPOSE:
To alert and equip God's people concerning what the Word of God tells us about spiritual deception and the safe-guarding of sound doctrine in the end times (Matt.24:4, 11, 23-25; I Tim.4:1; 2 Tim.3:1-5;13-17; 4:1-4; Acts 20:26-31; Philippians 1:9-11).
A WELCOME FROM PASTOR RANDOLPH MICHAELSEN
Thank you for visiting us at our newly launched website, which we pray will serve you well as a practical and helpful resource.
THESE ARE SOME OF OUR CURRENT PROJECTS
Johanna's recent 6-part CD and podcast series on prayer titled "When You Pray" is now available! Excellent for Home Group Bible Study or for your personal devotions and learning.
Randolph is conducting bi-monthly Sunday morning devotional/communion services at Belmont Village Retirement Home.
We continue home/hospital calls and visitations for prayer, communion and ministry
Update in progress of revised "The Beautiful Side of Evil" (BSOE)
Release of audio book read by Johanna of the abridged version of BSOE  (1st edition) will be available soon!
Johanna's new off-beat devotional titled Biblical Reflections on Tigger's Whiskers and Other Catastrophes is currently being illustrated by Caryl Matriciana!
Finish Spanish translation of BSOE; Evaluate further expansion into Latin America through social media
Re-release the abridged booklets of BSOE and Like Lambs to the Slaughter
Development of E-newsletter – We are reformatting our newsletter to make it easier to produce and read.
Responding to questions and personal ministry requests on this web page, Facebook & e-mails (Yes, I really am working on this!)
MANY OF YOU HAVE ASKED HOW YOU CAN HELP
There are several important ways you can come along side us:
Through ongoing, committed prayer! Our battle is not against flesh and blood, and anything to be accomplished for the Lord and His people in these last days can only be achieved through prayer. Pray specifically for our current projects; also, provision and protection for us and those who have come along side.
Through ongoing financial support. We realize that there are many good works worthy of your financial support. So, we ask that you would inquire of God if you are among those who are being prompted to support this ministry.
You can donate by clicking the SUPPORT button at the top of this page and following the prompts. If you choose to donate using the postal service follow the directions below.
TO DONATE BY MAIL:
Please make your check payable to "Michaelsen Ministries" and send to:
Michaelsen Ministries
1536 W 25th Street, Suite 263
San Pedro, Ca 90732