Description
"When You Pray" CDs – Product Details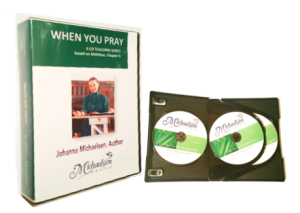 Recorded at the Breakwater Church Women's Conference, September 2015
Yours for a Donation of support to Michaelsen Ministries!
(Suggested minimum amount: $35)

Do Not Pray Like the Hypocrites – Johanna alerts the church to the importance of knowing How NOT to Pray, warning that we are being inundated by Eastern mysticism and occultist Contemplative Prayer techniques promoted by sincere, well-meaning people who may have a love for the Lord but are being led astray and are leading others in the same dangerous path. In contrast, she explains how Jesus teaches us to approach and pray to a Holy God.

Do not Pray like the Heathen, Part 1 – God's Perspective on the Occult and Syncretism
Do not Pray like the Heathen, Part 2 – Syncretism Invades the Church
Do not Pray Like the Heathen, Part 3 – Examples of Syncretism Invading the Church
In This Manner, Pray, Part 1 – Who Is This God Who Invites Us To Come to Him in Prayer? Who is Qualified to Call Him Father? The matter of judging…
In This Manner Pray, Part 2 – The Lord's Prayer: Trusting God for Daily Provision, The Importance of Forgiveness, Dealing with the Wiles of the Evil One,  The Full Armor of God.
The complete 6-CD teaching series and individual teachings are available for download or U.S. mail for a love offering.
May this series be a blessing to you!
---
*  Please allow us a few days to process your purchases.  USA shipping only